Polish Circular Delegation Visit to Norway
Over the course of three days, more than 50 stakeholders from Norwegian and Polish businesses and politics met, travelled together, and shared insights and ideas—with the purpose of identifying new innovation and collaboration areas for bilateral projects within the circular economy.
The topics were wide-ranging as the group gathered insights from circular opportunities in various fields, industries and regions. The Polish delegation representatives came from local authorities, media, the business community, and other interested parties and visited both companies and city leaders in Oslo and Bergen. At the start of the visit, the delegation was welcomed to the Norwegian Parliament by the representative of the Conservative Party, Nikolai Astrup, a Member of the Energy and Environment Committee. The journey was rounded off at Mongstad's carbon capture facility and innovation laboratory on algae and biocircular value chains.
The first day was themed as a circular learning journey within innovation and urban development. Its highlights ranged from a workshop with innovators working with circularity to a deep dive in city development and urbanisation at Oslo's modern seafront, Bjørvika. The second day saw the delegation travelling across the country to the western coast of Norway, where they were warmly welcomed by the Bergen Chamber of Commerce and Industry. The topics ranged from innovative circular business models and technologically advanced waste systems to the circular city strategy of the municipality. The last day was dedicated to an industrial approach to the circular economy and building industrial symbioses between different industries. The delegation was given insight into how the region works strategically transitioning a number of industries and technologies. The visit was a key step in the process of creating the first Poland Circularity Gap Report, which will be launched in October 2022.
Backdrop
Poland is one of Europe's largest and most populous countries. In the second half of 2021, its economy saw a sharp recovery, following the last shockwaves of the COVID-19 pandemic. Now, the prevailing geopolitical unrest is threatening to unravel the hard-won progress. The recent world events have reminded many European economies of precisely how vulnerable they are to external influences. Therefore, nations like Poland are waking up to the need to build societies that are more resilient and circular than before. A circular economy can serve as a much-needed way to meet emissions targets, improve living standards, and build economic competitiveness. But more than that it also improves a country's resiliency against outward influences.
At the core of moving from a linear to a circular economy is the courage to change. For innovation, the circular transition relies on businesses as frontrunners and wayfinders. Circularity itself can create new jobs, services and even industries, providing endless opportunities for the enterprising among us. Recognising this, the Polish Research Institute Innowo has joined forces with the internationally-recognised impact organisation Circle Economy and the Oslo-based strategy agency Natural State to measure the current state of circularity in Poland. This project aims to connect stakeholders across the nations, create bilateral business opportunities, and inspire participants to steer the country's circular transition. The project is funded by the EEA and Norway Grants.
As a part of the process, a delegation of Polish representatives travelled to Norway for a stunning showcase of circular knowledge and innovation from local and global innovators and pioneers. This article documents the key aspects of that visit.
The change is coming

On June 8th, Nikolai Astrup, Member of the Energy and Environment Committee, and a former Minister of International Development, Digitalization, and Local Government and Modernization, received the group at the Norwegian Parliament for an overview of what today's circularity looks like in Norway and within the European legislative context.
Nikolai Astrup has had a long career in working with development and the continuous changes that our society faces. Now, as a member of the Energy and Environment Committee, he works daily with ways to create a more sustainable and innovative Norway that works actively within the European setting.
He opened the meeting with a stark reminder that: "there is going to have to be a change if we are, by 2030, going to reach the UN's Sustainable Development Goals—and that is a huge task." Astrup underlines that this is a challenge that touches all of us, both as individuals and as a society. Therefore, the key to finding a solution will be in collaboration and coming together to solve the issues.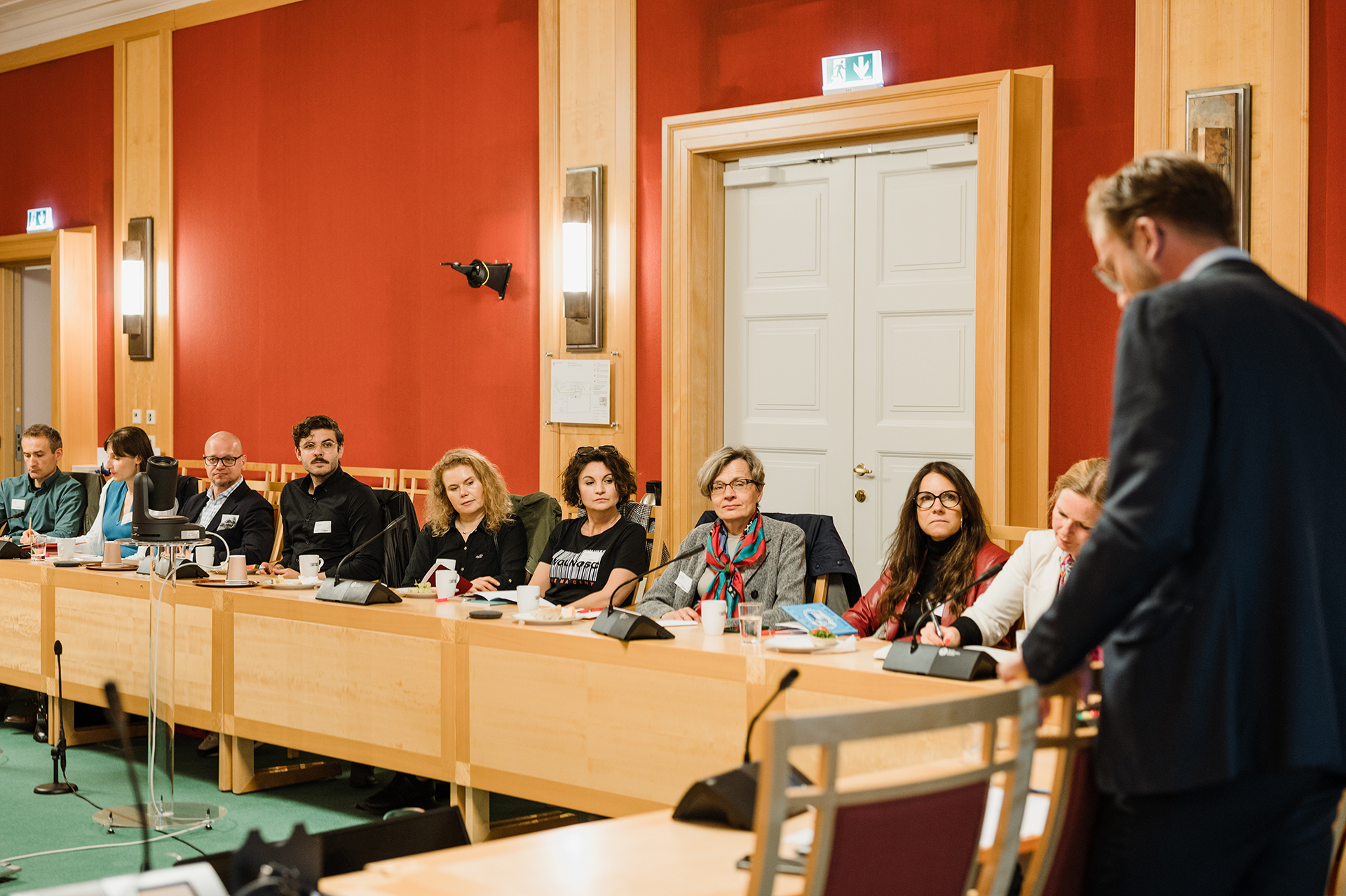 "The future is not linear, it is exponential", he continues, stating that: "the markets are a poor master with excellent servants, and we need to make those servants work together for change." The potential is there, as long as all the capacity and capability is brought together. In all of this, Astrup reminds us that changes have to be sensible for us to be able to implement them. It is our responsibility to ensure a fair and just market transition that is the start of something good for everyone. For this, the role of policy-makers and investors is crucial.
Astrup also brings up the recent global upheavals as important motivators for driving further change. Moving from linear consumption to circular consumption is no longer just a necessary move for ensuring sustainable development and that globally agreed emissions targets are met. It is now also a strategic solution—and more important than ever. Materials need to be kept in circulation because many of our raw materials, especially metals, are recovered from countries that in the future may stop providing them to us. Therefore, we need to ensure that what we have now remains in circulation within the economy.
If we look at what is happening today with both legislation and innovation—a change is coming as we speak. However, Astrup is also careful to outline where further work is urgently needed. Highlighting areas such as construction, waste management, and textile production as areas that require urgent change and more investment. And these changes need to happen in close contact with other countries.
"I am a big believer in personal responsibility…"
Astrup emphasises the importance of recognising the responsibility all of us hold in making more sustainable and more circular everyday decisions. From choosing sustainably produced natural materials in textiles to being aware of the microplastics in our daily products. Solving one issue with another problem will not provide long-term relief. Instead, we need to build and promote the circular economy strategically and focus on creating solutions at a larger scale than before.
For this, there is currently a huge push from the EU for legislative packages that are going to make a real difference—such as the Green Deal and the Circular Economy Action Plan. Attitudes are changing and with them also the legislative landscape is finally seeing a difference. Now, companies need to realise that if they want to survive they have to be sustainable and aware of how their sustainability plans reflect on them as a whole. Astrup concludes that circularity is the future but we've yet to answer the question of how we do it in practice.
The circular transition requires close cooperation between policy-makers, businesses, investors, and other parts of the society because there needs to be a real, tangible investment into solutions. We need to make sure that sustainable options are cheaper and easier, making them the obvious choice. Eventually, being circular should be a no-brainer, not a choice people need to make.
Circular Economy is going to change our society

When opening a circular economy workshop on behalf of Posten Norge in their colourfully decorated Innovation Lab, Alexander Haneng boldly stated: "Circular economy is the megatrend that is going to change our society". Circular innovation is not limited to the legislative level, instead, businesses all across the world are racing to come up with the newest sustainable solutions. And Posten Norge is one of the companies that has made a complete u-turn in its sustainability direction.
Grown from a traditional postal service, people at Posten Norge are experts in moving things around. However, the world is changing as traditional letters are quickly falling out of fashion, and Posten has reinvented itself as a Nordic logistics giant. However, moving things creates a lot of emissions, which is something the company had to confront. Finding motivation from the huge task in front of them, Posten has now managed to cut its CO2 emissions by 51%, largely by electrifying its fleet—and that's just the start! Now Posten's out-there initiatives range from rental outdoor gear to innovative work on packaging-as-a-service, undertaken by their Repost team. Posten today shows a completely different face to its emission-heavy former self. Now, it has been twice voted Norway's most innovative company, showing us that the changing world doesn't have to be the death of traditional industries. Instead, those who are happy to keep evolving will find new opportunities and rise from the ashes of their old selves.
Aker Carbon Capture is one of the companies grasping the new opportunities with both hands. Their ambitious 10-in-25 pledge—to capture 10 million tonnes of CO2 per annum by 2025—shines the spotlight on the possibilities this futuristic industry holds. Their Head of Sustainability, Hanne Rolén, points out that companies need to understand that there is a cost to pollute. And if the legislative landscape keeps evolving as it has been, that will be even more true in the future. Every company is, and will be, scrutinised on how they manage their emissions. And that is something specialised services like Aker Carbon Capture can help with by providing the required expertise, testing, and infrastructure.
People hold the power

The circular transition is not something businesses alone can achieve—it requires input from all aspects of society. The Norwegian Consumer Council (Forbrukerrådet) has in recent years done extensive research on how Norwegian society views sustainability and the challenges and possibilities the future holds. Kiti Gjerstad noted that it is often forgotten how much power consumers hold. In Norway, 9 out of 10 consumers want to be environmentally friendly. They want to be part of the solution, not the problem. And yet, Norway's circularity gap number is very low, reflecting both social and geographic realities. Highlighting also how much change is still required. And a lot of that change comes down to the consumer level. One of the issues Norway will now need to focus on is that what they consume is rarely produced within the country.
Circular Economy is a different animal

Efficient transition requires input from research. McKinsey is one of today's most relevant research institutions. Kjartan Karlstad presented some of McKinsey's perspectives on circularity and emphasised the need to take a more global and European approach to the circular economy. Materials are at the core of what the circular economy is and something that needs to be addressed even more seriously. Today, 60% of material waste is still either landfill or unmanaged—and only 10% is recycled. But in order to monitor, report and manage material streams globally, data needs to be collected and easily available across borders. This makes the circular economy a different animal from all the others, as it requires such an extreme level of openness and collaboration.
SINTEF, one of Europe's largest independent research institutions, is also on the ball when it comes to researching circularity and sustainability issues. Sigurd Sagen Vildåsen brings up the often forgotten but crucial point that while the purpose of the circular economy is to solve environmental issues—there can also be benefits in the social and economic domains. The circular economy can mean jobs for people, which makes it a much more attractive prospect to both policy-makers and businesses. In order to get the transition happening, there is a need to frame circularity using these terms that attract more actors and investors. As we're currently lacking a lot of the solutions to make a functioning circular economy a reality, serious investments are needed in the near future. Making the investments now will help us consume less in the future.
Creating bilateral networks between Poland and Norway

One of the key targets of this delegation visit was to create collaboration opportunities between Norway and Poland. To facilitate this, on the evening of the 8th of June, Natural State organised a social programme to which a lot of Norwegian business representatives were invited. First, the delegation got an opportunity to learn more about the urban development of Oslo's bustling seafront. Sustainability Director Marie Indrelid Winsvold from HAV Eiendom talked about their circular strategies for developing what is currently an empty logistics port into housing and a lively neighbourhood on the seafront. The tour was followed by a dinner and social evening at Gamlebyen Lost, in the Old Town of Oslo. This multi-functional coworking space was developed by Natural State and also serves as the company's home base. In addition to ample networking opportunities, the evening served short talks from the project participants, as well as Frank Jaegtnes on behalf of the PDT Digital Material Bank and Inger Johanne Wiese on behalf of Norway's Ministry of Climate and Environment.
Giving old oil rigs a new life as circular construction materials

After Oslo, the delegation travelled through to Bergen on the west coast of Norway. There, the group got a great opportunity to experience a range of sustainable and circular initiatives first-hand. Stina Ellevseth Oseland, Head of Climate at Bergen Municipality, gave a talk on their green strategy. This is something Bergen Municipality has been working extensively on in recent years. These principles also featured heavily in how they restored the Bergen City Hall, which the group got to tour led by Elena Castillo. The building is a beautiful showcase of what careful renovation and reconstruction can look like.
Bergen is also home to the Bergen Chamber of Commerce and Industry with a Circular School initiative that focuses on solving circularity issues not only for today but also for the future. Astrid Hårstad gave the delegation an introduction to the Circular School and their other circular economy initiatives. One of the cornerstones of their work is material flow mapping, which Hanne Wetland presented to the group. Other local companies, such as RAVINA by Fitia Andriana, that offers clothes as a service, and BIR, that has taken an innovative look at waste management in Bergen with the Chief Innovation Officer, Toralf Igesund, at the helm, showcased that not all of Norway's innovative spirit is located in the capital.
This was especially apparent throughout a visit to the Bergen Aquarium. There, Vill Arkitektur's Fredrik Barth talked about the Aquarium's current work and thoughts on a sustainable future, as well as about Nordic Circles and the work they do on pioneering projects reusing the steel from old oil platforms and ships for city development projects, fish hotels, and much more. Taking talk about circularity one step further and repurposing important materials that can serve us well for another lifetime in a new form. Thank you to the CEO of Bergen Aquarium, Aslak Sverdrup, for inviting the delegation for this memorable visit.
If we don't like it, let's change it
On the last day of the visit, the Poland circular delegation got a unique opportunity to visit Mongstad Industrial Park, facilitated by NORCE (Norwegian Research Centre). Located about an hour's scenic drive from Bergen, Mongstad holds Norway's largest oil refinery and port, as well as a national test centre for carbon capture. Once known as a national shame by those working with environmental issues, in recent years the Industrial Park has been transforming into the "green spot" of Norway. It offers ideal conditions for new sustainable business models with a more diversified industrial mix, increasing green investments, and circular industrial processes.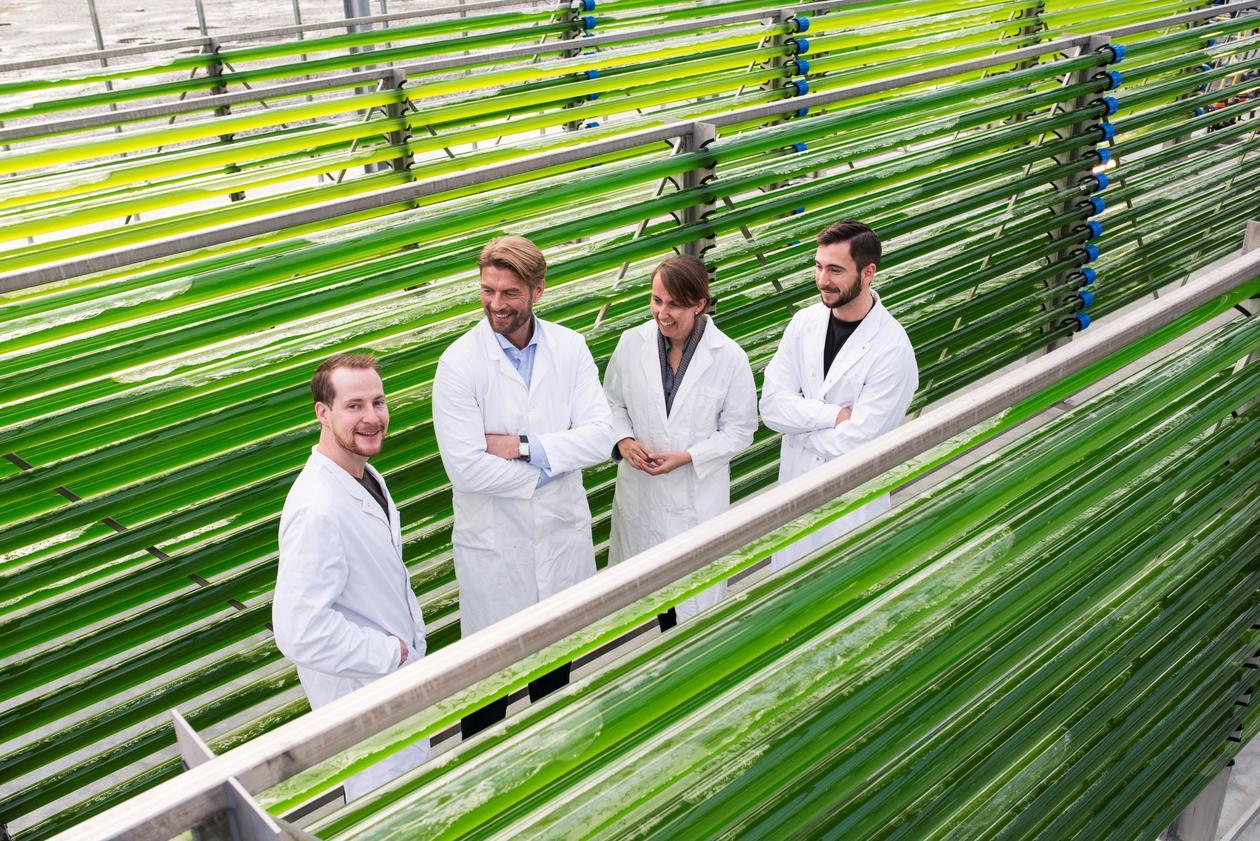 Mongstad now includes research facilities that are pioneering in innovative research on topics related to CO2 recycling, as well as the National Algae Pilot facility that is researching ways to support the growing aquaculture industry. Recognising the importance of close collaboration, NORCE and Vestland County are working strategically with a wide range of companies, cities and regions in order to forecast and create clear goals for what the future can look like. They've created 16 strategic hubs working as industrial symbioses for making the circular change and reaching their goals. And the goals are ambitious—as Vestland is aiming to become the greenest region in the world!
The delegation was given excellent presentations on circularity and related work at Mongstad by Kjetil Hantveit, Modification Manager, from Technology Centre Mongstad (TCM), Hans Kleivdal, Deputy EVP and Head of Business Development, from NORCE, Einar Vaage, CEO of Greenspot Mongstad, and Kathrin Jakobsen, Section Head, from Vestland County.
We are seeing improvements, but the project continues

Circular economy requires more reporting and closer collaboration than any previous model. It can not be realised alone, as Agnieszka Sznyk (Innowo) so acutely pointed out: "we are finally starting to see the change that is based on our previous hard work on circular economy and sustainability. But there is still a need for a lot more bilateral collaboration. Now, at least, circular economy is talked about, it is mentioned in public talks—before it wasn't such a sexy topic. The question now is how can we strengthen our relationships?" To follow the project and benefit from the knowledge sharing and networking opportunities, keep an eye on this website and follow
Nordic Circular Hotspot
and
Innowo
.